Like I said in the last post, I asked out AngryHot. It was a Sunday night, I sat next her at ward prayer, struck up a convo, asserted my dominance over all the other guys trying talk to her, waited until there was a few minutes alone, and popped the question. She accepted (winning!), I got her phone number, and we parted ways. Pretty standard maneuvers.
Monday during the day we texted quite a bit. Now I'm not a huge texter, but I can play the game if it needs to be played. And I was killing it. I'm a funny guy (exhibit A - this unbelievably hilarious blog, exhibit B - my mom says so), but I have never been this on fire with texting. After awhile it got to the point where I was starting to worry that my texts were too funny and that I was setting an unsustainable standard. It was that bad (or good).
Turns out that we had combined ward FHE that Monday night so we end up talking for all of that. Then on Wednesday she invites me over to make dinner with her. Then on Thursday my roommates convince me to invite her over for a movie we are watching. And what is this? She instantly cuddles up next to me during the movie? Can this really be a hot girl taking the initiative with something?
Hallelujah!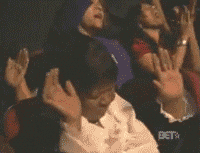 Friday finally comes and we are suppose to go on our first awkward get-to-know-you date, but we've been hanging out all week, so that's a little weird. Unfortunately she was sick Friday and so instead of going to dinner I just get her some chicken noodle soup and medicine and we cuddle on the couch.
That was a little over a week ago, and we have been hanging out pretty consistently since and finally had first "official" date this weekend. Its been a very comfortable and organic relationship process. We still haven't had a DTR and we still haven't kissed. As opposed to a "NCMO" scenario, with a "there could be a future with this girl" scenario, I try to hold off kissing the girl until 1) I am sure I want to get exclusive with her, and 2) I am sure she
really
wants the kiss. So I am not yet sure I want to get exclusive (I'm not one to rush into these things), but I am definitely sure she
really
wants me to kiss her. Its going to be hard not to give in and/or dodge her advances.
Also she scratched my back today during sacrament without me even asking for it, so you could say things are going pretty good.