So there was a Multi-Stake YSA dance in my area recently and I was excited. I love dancing and I had prepared some extra special moves for the occasion.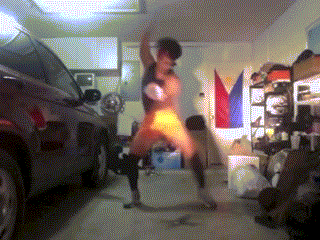 But it wasn't just the opportunity to bust a move that had me excited. I have yet to meet anyone in my current ward that I am interested in and this was an opportunity to broaden my dating horizons. Multi-Stake = tons of wards = tons of girls = at least a few cute girls right? I liked my chances.
I was coming straight from the airport and I wanted to text my roommates ahead of time (but not while driving, cuz that's just straight ig-nant) to ask how it was going and if there were hotties available to be wooed through the language of dance. But my phone was dead, so I was flying in blind.
Now this isn't my first rodeo. I have these church dances down to a science.
My Dance Gameplan:
1.Establish a home base early. This is the safe zone. This is your group of homies and close friends. You dance with this group while scouting out the landscape and determining which girl to creep up on.
2. Venture out from home base and introduce yourself to targeted girl. Impress her with your sweet dance moves and your witty remarks that YOU YELL AT THE TOP OF YOUR LUNGS BECAUSE THE MUSIC IS SO LOUD.
3. Get her number.
4. Return to home base for high fives
5. Repeat with the next girl you scope out.
6. Start getting sweaty from going too hard on the dance floor.
7. Take a song off (you deserve it!) and get a drink of water to cool down
7. Once cooled down go back to home base.
8. Act like you are grinding up behind your male friend, make everyone laugh.
9. Actually grind up behind a female stranger, make everyone look at you disapprovingly.
10. Keep on requesting "Don't Stop Believing" by Journey
11. Leave before the dance ends because you have other cool plans that night

Let me tell you right now, things did not go according to plan.


Problem number 1. I could not establish a home base. My roommates are no where to be found. I checked everywhere, but nothing. The only people I knew are some sweet spirits from my ward. I can't set up home base with them! They won't give me high fives if I leave them to get the digits of some other girls. Its unacceptable.

So I just kinda stand there at the edge of the dance floor, frowning and arms crossed trying to see someone I knew/any cute girls.

Eventually I took notice of the disc jockey. It was literally a middle aged mom of 5. No joke it was a wife of one of the counselors in my ward. Below is a chart representing the sick beats she was laying down:

Honestly the most hip thing she played all night was the Space Jam Theme song, and that was a request!

So not an ideal situation. But I wasn't giving up just yet. Even though my friends and roommates were not there, and DJ "For the Strength of the Youth" (her street name) was playing "Everything I do, I do it for you" for the second time that night, I was determined to use the opportunity to meet a cute girl.

So I looked and looked, but the only semi-cute girls also looked like they were 15, so that wasn't going to fly. I started to think about how freaking weird and awkward all these people looked. I literally started laughing, wishing I could show my non-member colleagues. It was like the most goofy and unattractive group of 18-30 year olds ever assembled. Then I realized this was a snapshot of the desolate wasteland that is the Mormon singles scene outside of the Mormon Zone (Utah-Arizona-Idaho-California). This is my future.